Recordings
Other Music recorded and released two LPs: Prime Numbers (1980) and Incidents Out of Context (1983). Neither of these recordings has been reissued on CD, and there is no plan to do so at present. Original vinyl LPs can still be purchased from Other Music, 535 Stevenson Street, San Francisco CA 94103.
I am making my compositions from these two LPs available for free download (see below). If others of the composers from Other Music want me to make their compositions available, they are invited to contact me.
Incidents Out of Context (1983)
Incidents Out of Context is a multitrack studio album. It was recorded over a period of several months in 1982 at Music Research studio in Concord CA and released in 1983 on the Flying Fish label (FF302). With the exception of "Music with Too Many Parts," none of the tracks were ever performed live. The compositions on Incidents… combine insturments from the American gamelan, the Prophet V synthesizer, and a variety of acoustic and elctro-acoustic instruments, including refretted electric guitar, tenor saxophone, hammered dulcimer, cello, English horn, and French horn.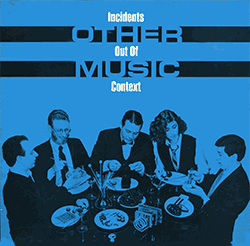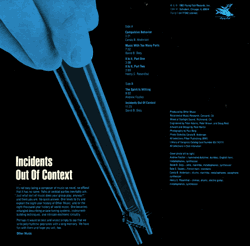 Contents
Compulsive Behavior • Carola Anderson • 3:21
Music With Too Many Parts • David B. Doty • 7:52


It It It, Parts One and Two • Henry S. Rosenthal • 6:11
The Spirit is Willing • Andrew Fischer • 8:02
Incidents Out of Context • David B. Doty • 11:23
Tellus #14: Just Intonation (1986)
The last recordings to carry the Other Music name and feature members of the group performing and recording together appeared on the cassette magazine Tellus #14, currated by the Just Intonation Network and released in 1986. The two selections, Carola Anderson's "Shibboleth" and my "Fake Greek Music," were recorded in Other Music's eight-track studio. Both feature refretted electric guitar and bass, the Prophet V, Hohner Clavinet, and trap drums. "Shibboleth" also includes Carola's voice and Andy Fischer's hammered dulcimer. There is no sign of the gamelan, either in instrumentation or compositional style. These pieces give some indication of the direction Other Music might have taken had the group continued.